Notable People:
Mirza Mehdi Khan Etemad-ed-Dowleh Monshi-ol-Mamalek Esterabadi
Mirza Ahmad Khan Motazed-Dowleh Vaziri
Mirza Abdollah Khan Meshkat-ol-Molk Vaziri
Mohandess Mirza Abolghassem Khan Motazed-Daftar Vaziri
In Farsi:

صفحات مربوط به خاندان وزیری در کتاب تاریخ کرمانشاهان

خاطرات علی اصغر خان از نقش خانواده وزیری در انقلاب مشروطیت

میرزا مهدی خان استرآبادی
میرزا احمد خان معتضدالدوله وزیری
Family genealogy
This page contains the Vaziris' family tree from the book "Historical Geography and comprehensive history of Kermanshahan" by Mr. Mohammad-Ali Soltani, published in 1994.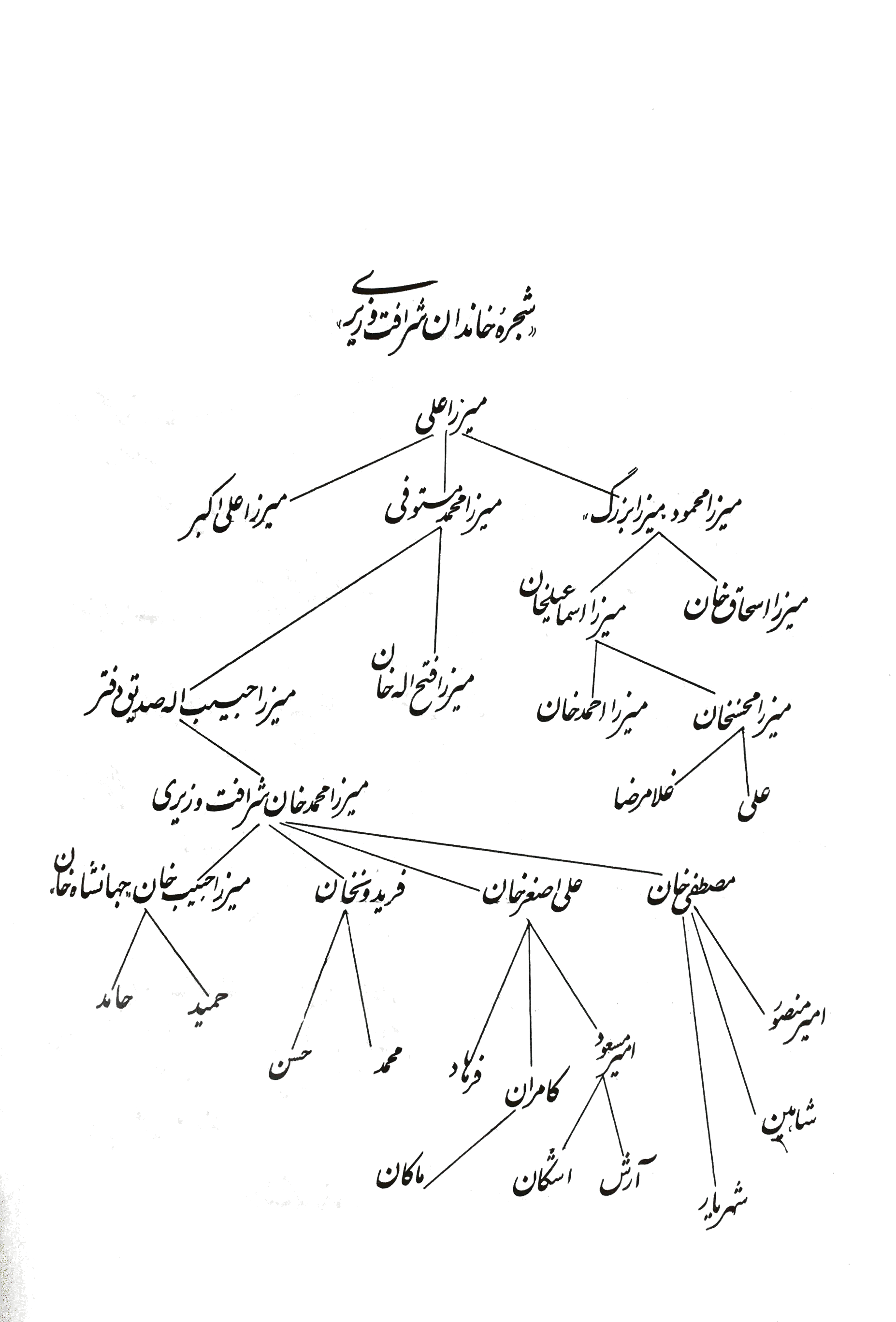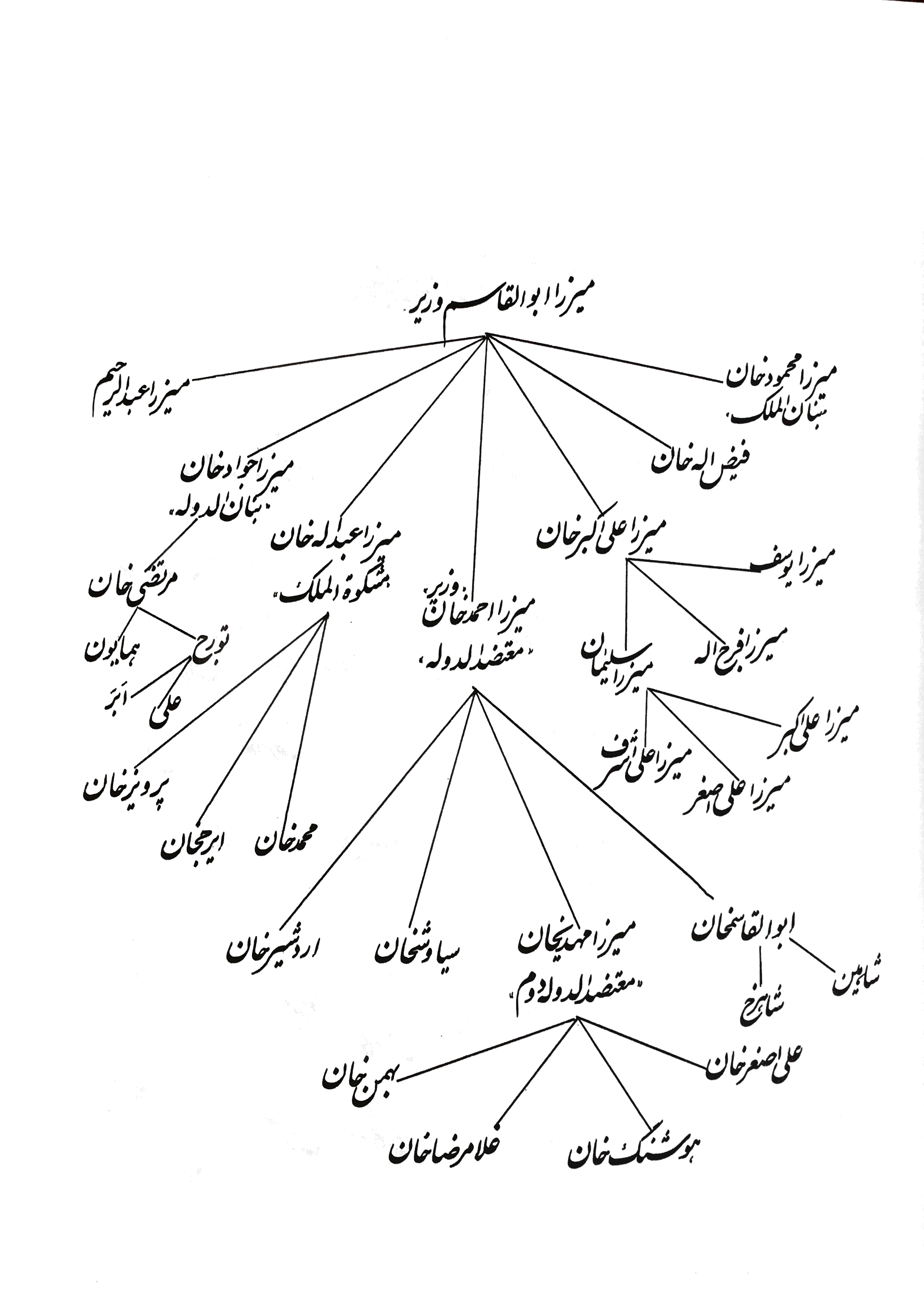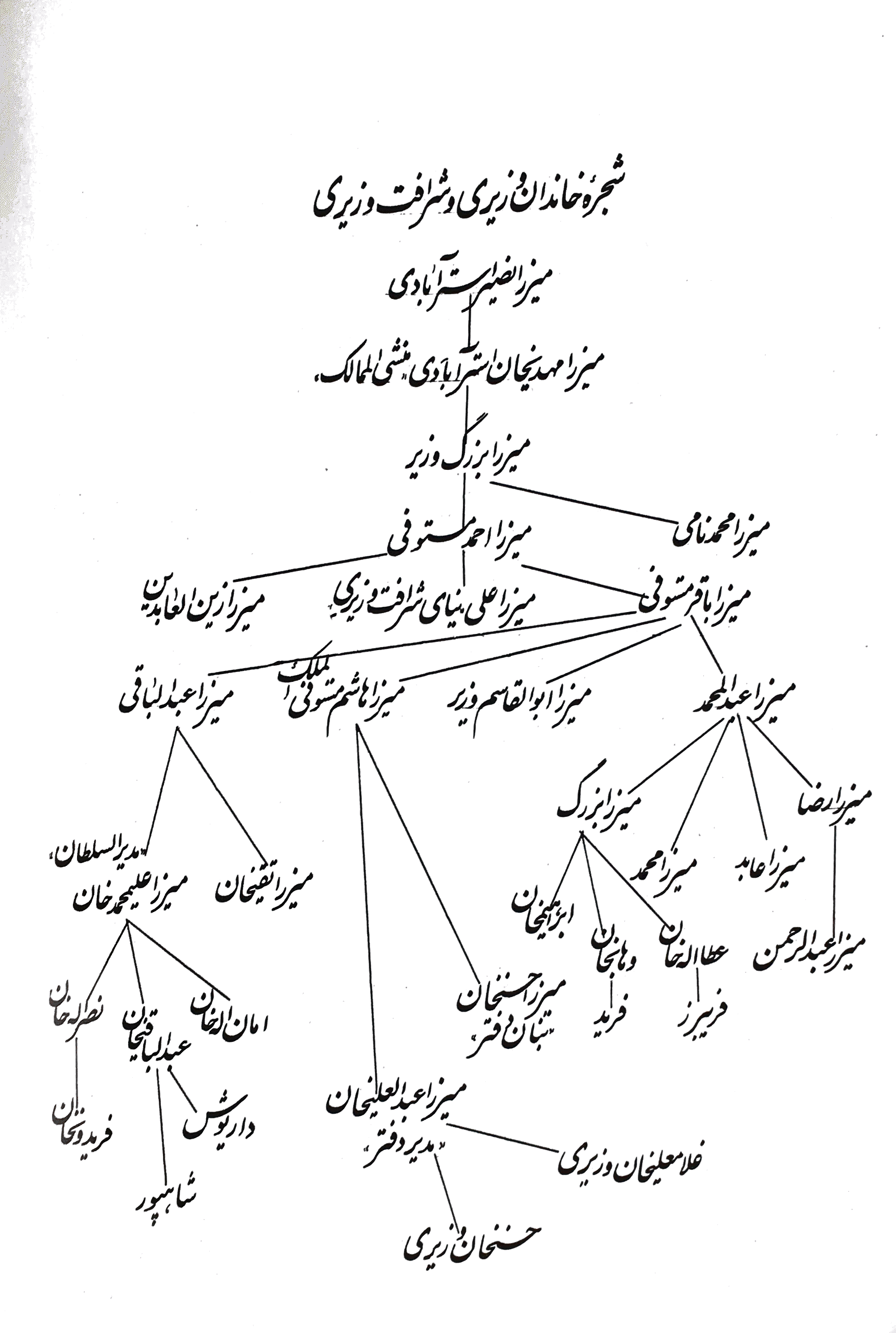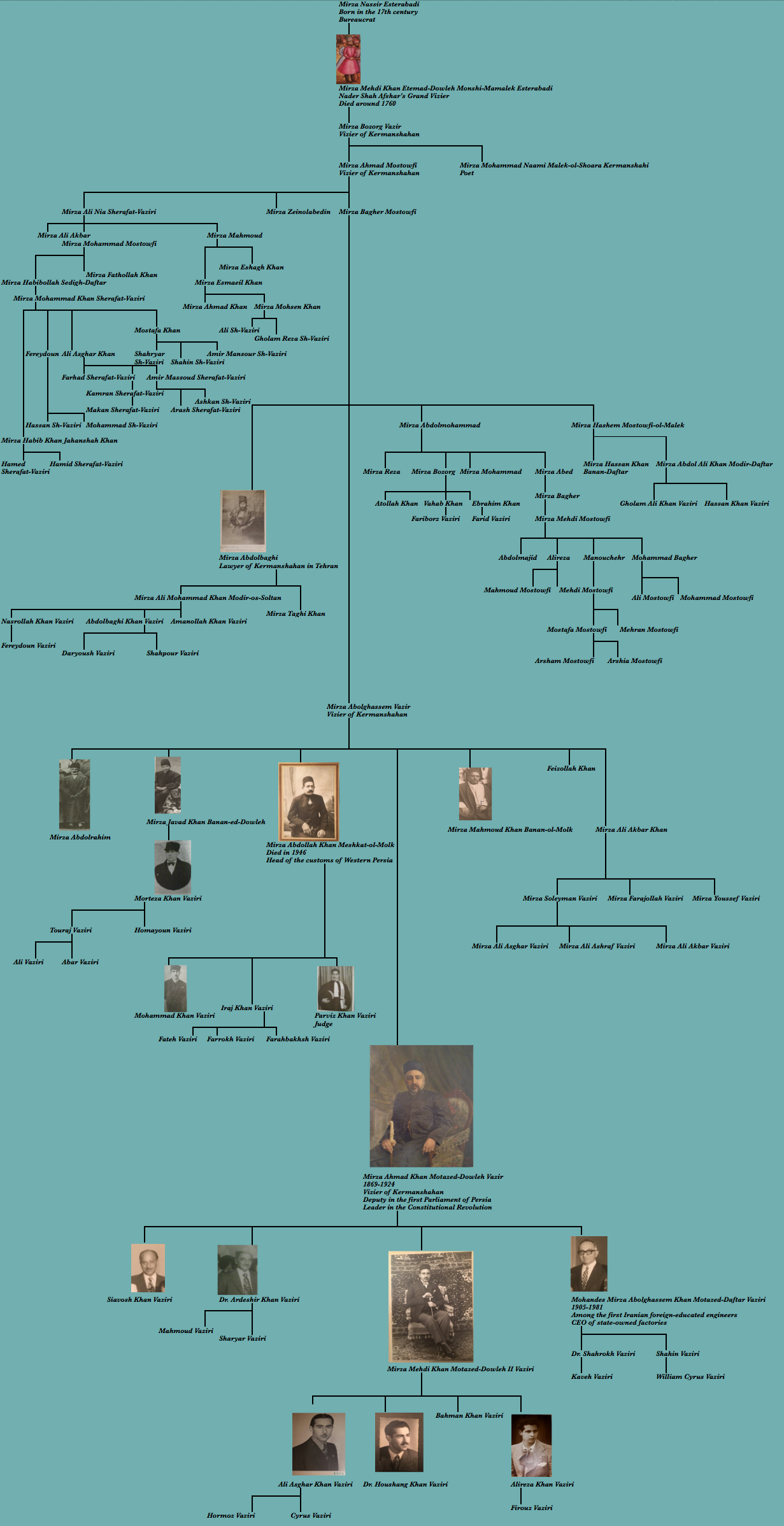 The family is a vizierial dynasty, so the whole lineage, from Esterabadi to Motazed-Dowleh, consists of viziers.
The families related to the Vaziris since the Qajar/early-Pahlavi era are:
Dowlatshahi (Qajar),
Heshmatzad Dowlatshahi (Qajar),
Jahansouz (Qajar),
Khaneh-Kharab (Sartip),
Hajizadegan (Farroknia, Pouyan),
Mehrvarz (Qajar),
Shambayati (Qajar),
Shahzadeh Naderi (Afsharid),
Aal Agha,
Rostampour,
Aminpour,
Seyrafi,
Monajam Izadi,
Bavand (from Mazandaran),
Lari (from Fars)

1st generation: Oldest ancestor: born in the 17th century, Mirza Nassir Esterabadi
2nd generation: Mirza Mehdi Khan "Etemad-ed-Dowleh" "Monshi-ol-Mamalek" Esterabadi (d. 1760), Nader Shah's chief Secretary, historian and biographer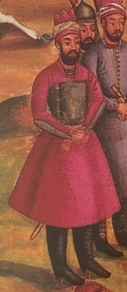 3rd generation: Mirza Bozorg Vazir
4th generation: Mirza Ahmad Mostowfi and Mirza Muhammad Nami
5th generation: Mirza Zeinol Abedin, Mirza Bagher Mostowfi, Mirza Ali Niaaye Sherafat-Vaziri
6th generation: Mirza Abol Baghi, Mirza Abdol Mohammad, Mirza Hashem "Mostowfi-ol-Malek", Mirza Abolghassem "Vazir"
7th generation: Mirza Ali Mohammad "Modir-os-Soltan", Mirza Taghi Khan, Mirza Reza, Mirza Abed Khan *, Mirza Hassan Khan "Banan-Daftar" *, Mirza Abdol Ali Khan "Modir-Daftar", Mirza Abolrahim *, Mirza Javad Khan "Banan-ed-Dowleh" *, Mirza Ahmad Khan "Vazir" "Motazed-Dowleh" *, Mirza Abdollah Khan "Meshkat-ol-Molk" *, Mirza Ali Akbar Khan (Aka Mirza Ali Jaan) *, Fezollah Khan, Mirza Mahmoud Khan "Banan-ol-Molk"
* Mirza Ahmad Khan "Motazed-Dowleh" Vazir (1869-1923), * Mirza Abdollah Khan "Meshkat-ol-Molk" (d. 1946) :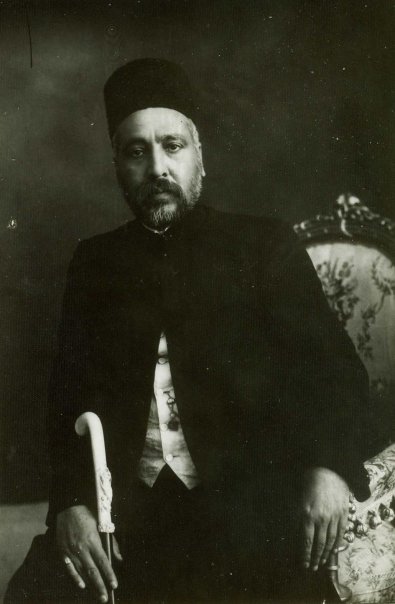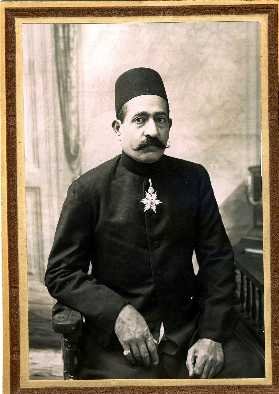 * Mirza Hassan Khan, * "Banan-ed-Dowleh", * Mirza Abolrahim, * Mirza Abed Khan :




8th generation: Nasrollah Khan Vaziri, Abolbaghi Khan Vaziri, Amonollah Khan Vaziri, Atollah Khan Vaziri, Vahab Khan Vaziri, Ebrahim Khan Vaziri, Gholam Ali Khan Vaziri, Hassan Khan Vaziri, Morteza Khan Vaziri, Mohammad Khan Vaziri *, Morteza Khan Vaziri *, Iraj Khan Vaziri, Parviz Khan Vaziri, Ardeshir Khan Vaziri, Siavosh Khan Vaziri, Mirza Mehdi Khan "Motazed-Dowleh II" Vaziri *, Abolghassem Khan "Motazed-Daftar" Vaziri *, Mirza Soleiman Vaziri, Mirza Farajollah Vaziri, Mirza Youssef Vaziri, Galin Vaziri-Dowlatshahi, Azizollah Qajar Shambayati, Behjat-ed-Dowleh Vaziri-Dowlatshahi, Vajih-ed-Dowleh Vaziri-Dowlatshahi, Dr. Ardeshir Khan Vaziri, Siavosh Khan Vaziri, Nosratmalek Vaziri
* Mirza Mehdi Khan "Motazed-Dowleh II" (d. 1963), * Mirza Abolghassem Khan "Motazed-Daftar" (1908-1981) :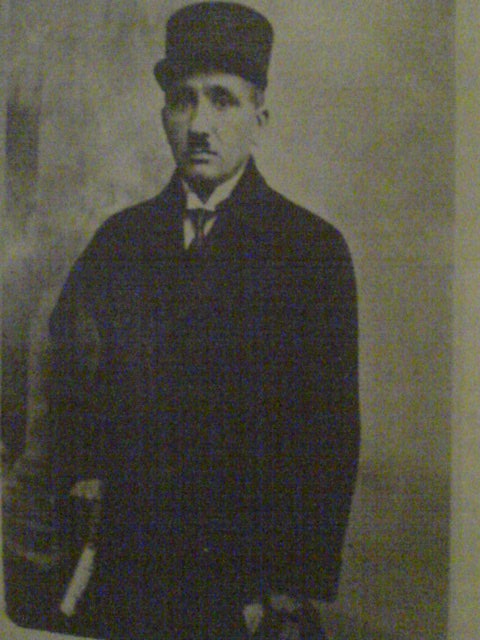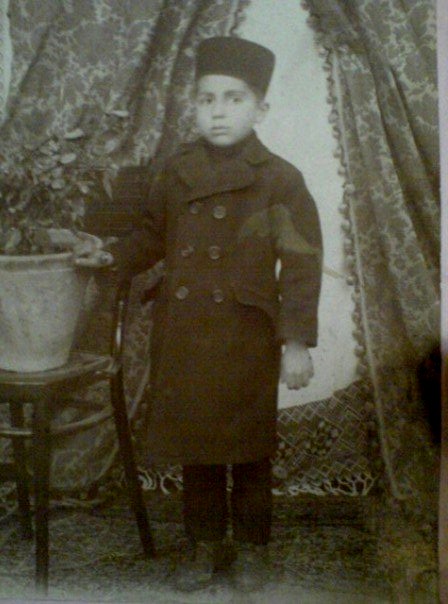 * Morteza Khan, * Mohammad Khan :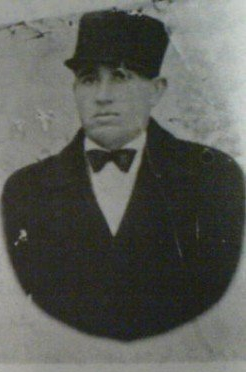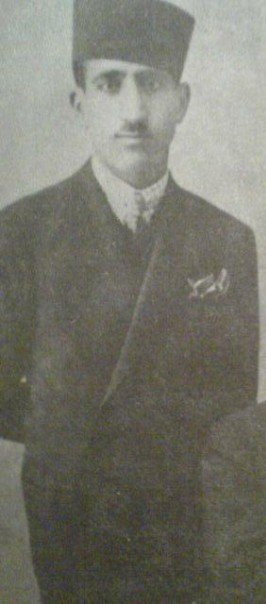 9th and 10th generations: Fereydoon Khan Vaziri, Mirza Ali Ashraf Vaziri, Mirza Ali Asghar Vaziri, Mirza Ali Akbar Vaziri, Ali Asghar Khan Vaziri, Kamran Mirza Dowlatshahi, Arsalan Mirza Dowlatshahi, Dr. Houshang Khan Vaziri, Ali Reza Khan Vaziri, Bahman Khan Vaziri, Kiumarz Shambayati Qajar, Hooshang Shambayati Qajar, Bahman Shambayati Qajar, Mohammad Shambayati Qajar, Daryoush Vaziri, Shahpour Vaziri, Fariborz Vaziri, Farid Vaziri, Tooraj Vaziri, Homayoon Vaziri, Farrabakhsh Vaziri, Farrokh Vaziri, Fateh Vaziri, Faramarz Bavand, Kiumarz Bavand, Ali Bavand, Hormoz Vaziri, Vida Vaziri, Shahla Vaziri *, Shahin Vaziri *, Shahrokh Vaziri *, Mahmoud Vaziri, Shahryar Vaziri, Abbas Dowlatshahi, Fatemeh Dowlatshahi, Nasser Dowlatshahi, Soussan Dowlatshahi, Firouzeh Dowlatshahi, Saghar Yassami, Shahriar Yassami, Kaveh Vaziri, Cyrus Vaziri, Donya Vaziri, Saba Vaziri, Darya Vaziri, Sepandar Bavand, Anahita Bavand, Atosa Bavand
* Shahin Vaziri, * Shahla Vaziri, * Shahrokh Vaziri: