Mirza Ahmad Khan "Motazed-Dowleh" Vaziri
میرزا احمد خان معتضدالدوله وزیری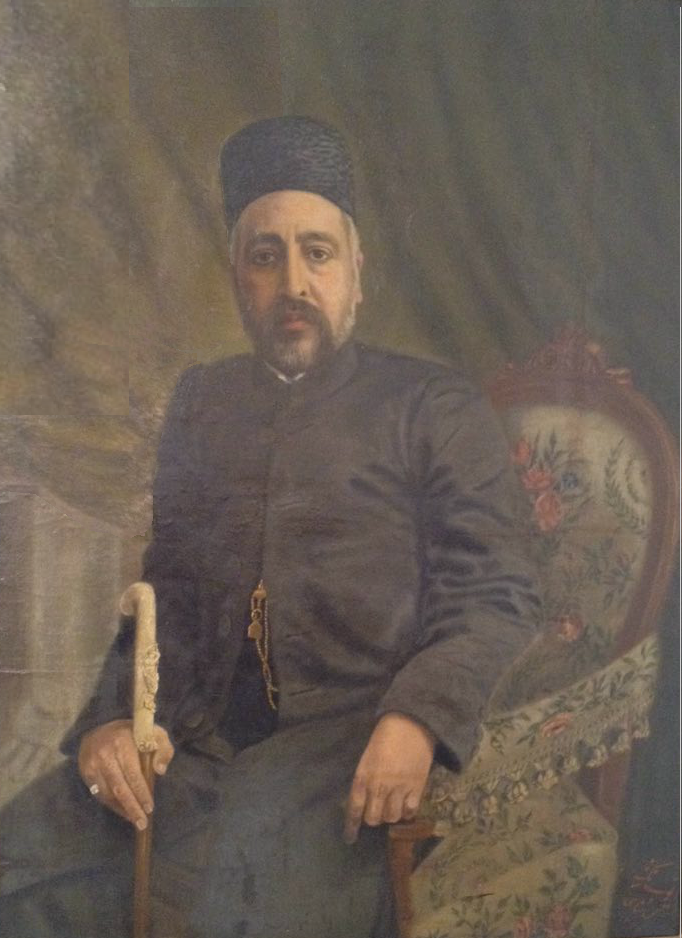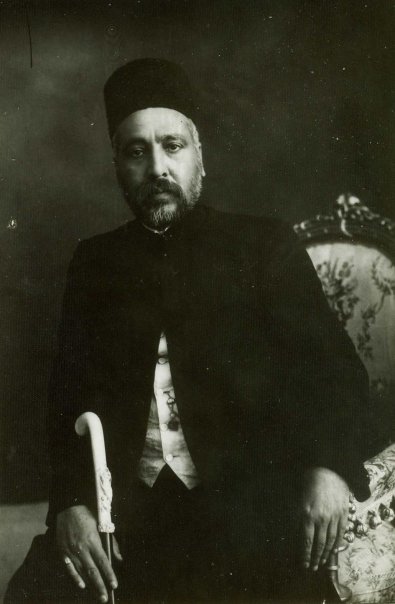 Mirza Ahmad Khan Motazed-Dowleh Vaziri (1869–1924), son of Mirza Abolqassem Vazir, was the vizier of the province of Kermanshahan and later a member of parliament in the First Majles of Persia. He was given the title Motazed-Dowleh by a Qajar king.
He founded Madreseye Mellie Sheraafat ("National Sherafat School"), the first private school of Kermanshah, which was placed under the direction of Mirza Mohammad Khan Vaziri. In 1905, he founded the first School of Law of Kermanshah and appointed Prince Mohammad Bagher Mirza Khosravi as its principal.
He also created Sheraafat Ahmadi, the first printing office of Kermanshah. He imported the printing presses from India. It was one of the first printing offices in Persia and it led to the creation of Rooznaameye Kermanshah ("the Newspaper of Kermanshah"), the first newspaper of Kermanshah, in 1906, which was under the direction of Seyyed Hedayatollah Fasih-ol-Motokallemin. The newspaper had modern content and promoted democratic values; as a result, it was later forbidden by Salar-ed-Dowleh. He also helped in the printing of important books such as Shams o Tagra, Ghassed e Soltani, Divaane Mohammad Bagher Mirza Khosravi, Makhsane Laali, Shabaabe Kermanshahi, and Shahnameye Laahooti.
He was one of the great figures in the Iranian Constitutional Revolution. Because of his fight for freedom and democracy against the existing absolute monarchy, his estates were often attacked. When Mohammad Ali Shah sent Salar-ed-Dowleh to Kermanshah to fight against constitutionalists, Vaziri went to Tehran with Mirza Ali Khan Sartip and other important constitutionalists of Kermanshah to form an alliance with the constitutionalists and liberals of Tehran. Salar-ed-Dowleh closed the printing office and newspaper of Kermanshah, but Vaziri went back from Tehran to open them again. Salar-ed-Dowleh also ordered the murder of the Motazed-Dowleh's brothers. Most of them went into hiding, but Mirza Ali Khan Vaziri was murdered by a friend who betrayed him.
In 1914, during the First World War, there was a famine in Iran, and Motazed-Dowleh donated 500 tons of wheat to the people of Kermanshahan and opened a bakery that would distribute bread to people. He also purchased people's properties for high prices and gave them back to their former owners.
Farajollah Motamedi also reported that when he used to have dinner at Motazed-Dowleh's house, Motazed-Dowleh would cry and could not eat properly because he was ashamed of doing it while people were starving.
Thanks to his philanthropic character and his virtues, he was elected as a member of the first parliament of Persia during its fourth term. The other representatives elected for Kermanshahan were Prince Nosrated-Dowleh Firouz, Fatollah Khan Nassir-ol-Divan, and Ali Khan Zangeneh Amir-ol-kol. Motazed-Dowleh was in the Etedal political party and was an ally of Prince Abdol Hossein Farman Farma, who actively supported him during the elections.

While in Tehran, he took a second wife, who was the first cousin of Anis-ed-Dowleh, Nassereddin Shah Qajar's wife. The marriage was politically motivated, and when he went back to Kermanshah, his first wife prayed to die before her husband saw her and felt ashamed about taking a second wife. She died just before he arrived. Motazed-Dowleh died of an infarct in 1923.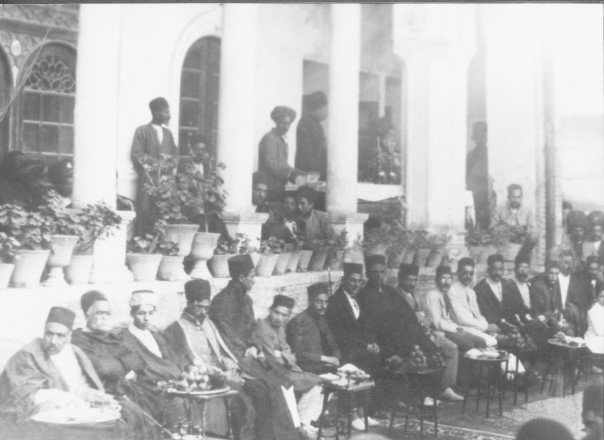 Reception at Motazed-Dowleh's mansion, today classified as a national monument. Motazed-Dowleh is the first person sitting from left.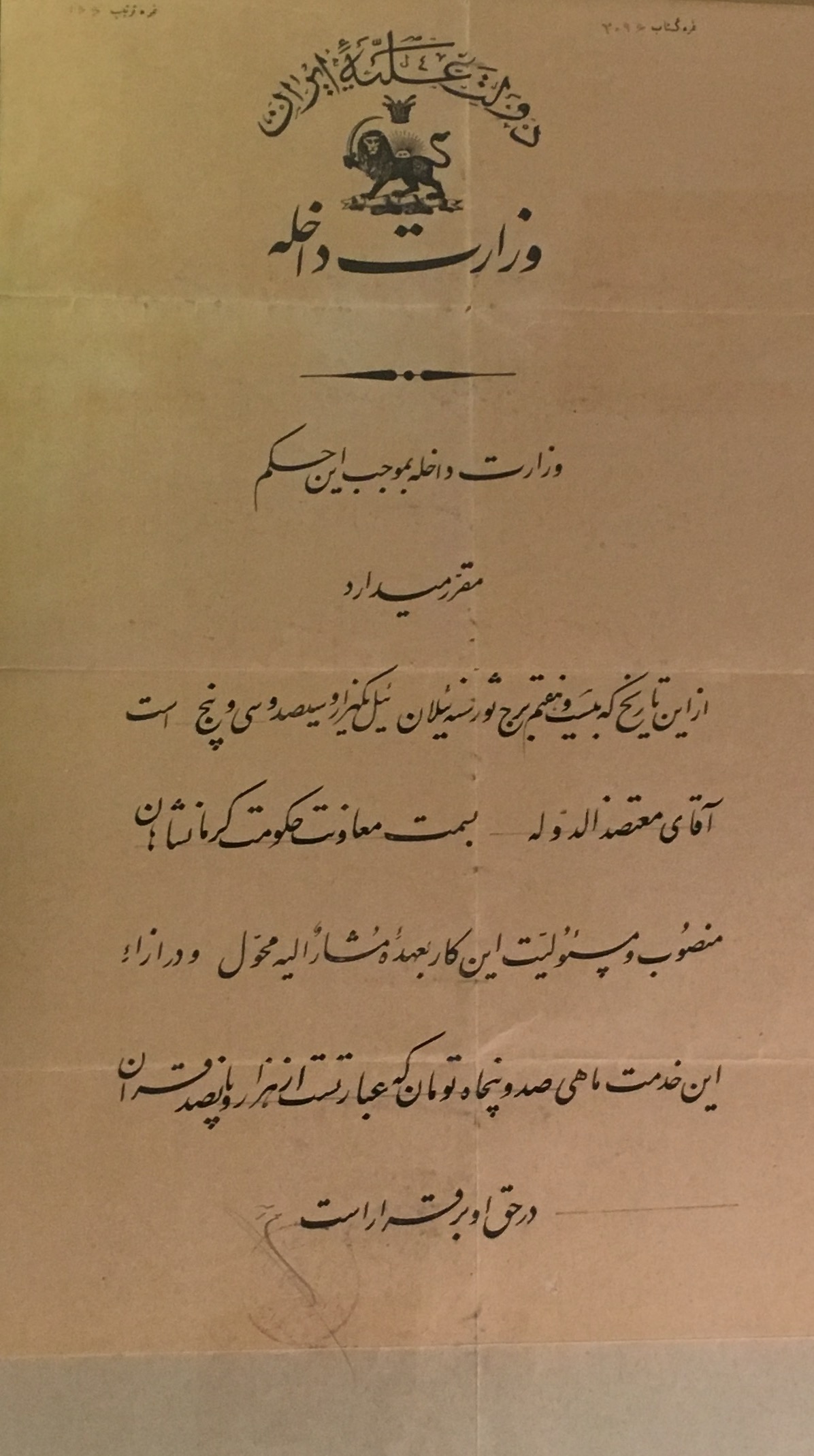 His last position decree:
" Wonderful State of Iran
Ministry of Interior
This decree from the Ministry of Interior appoints Sir Motazed-Dowleh to the position of vice governor of Kermanshahan and gives him 150 tomans which equals to 1500 gheran monthly from this date of 1335 (1914) onwards."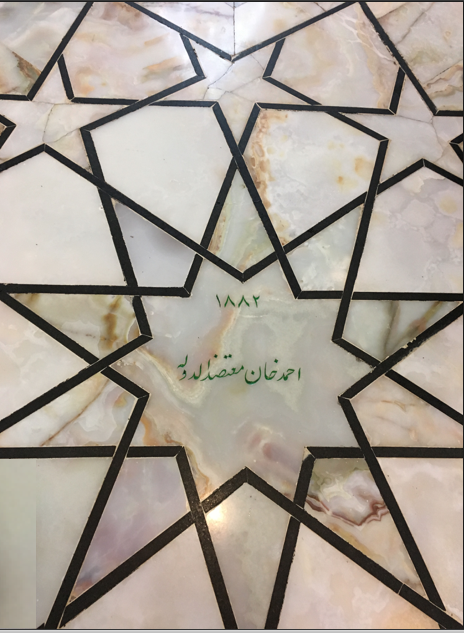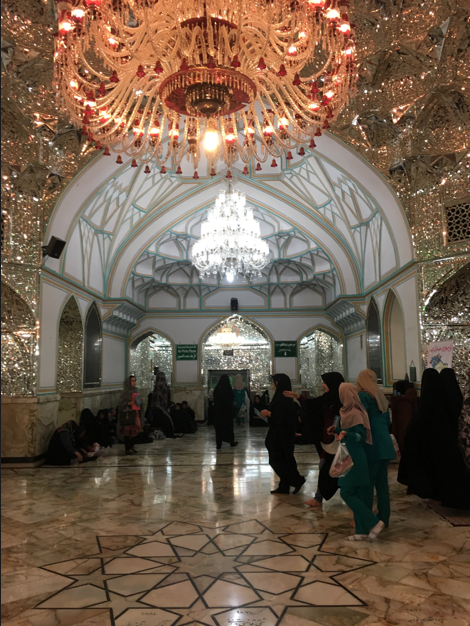 Tomb of Motazed-Dowleh under the chandelier of Shah-Abdol-Azim shrine's main entrance
Sources
"Vaziri Family" in "Historical Geography and Comprehensive History of Kermanshahan" (Taarikhe Mofasale Kermanshahan), 1994, Mohammad-Ali Soltani
"Political Parties and Secret Societies in Kermanshah", 1999, Mohammad-Ali Soltani
"A History of Journalism in the Persian-Speaking World ", 1998, Nassereddin Parvin
"La Perse d'Aujourd'hui", 1908, Eugène Aubin
http://www.magiran.com/npview.asp?ID=1312862
"History of political events of Kermanshahan", Bakhtardaily
"Motazed-Dowleh, from the creation of the printing office to the foundation of school", 2015, Farzaneh Karami, Hamshahri newspaper
Transcripts of the discussions during the First Parliament of Iran, sessions 4, 8, 9, 31, 39, 42, 44, website about the history of the Iranian Constitutional Revolution
The democratic party and the intervention of Farmanfarma in the 3rd term of the National Parliament, Researches on History, Human sciences department of the University of Tehran

"Role of Kalhor tribe and Salar-ed-Dowleh's revolt"

Motazed-Dowleh's house in the list of historical buildings of Kermanshah, official website of the municipality of Kermanshah
http://kermanshahshenasi.blogfa.com/post-27.aspx
Architectural university project to renovate the house of Motazed-Dowleh
Article about the artists from Kermanshah, mentioning the Kermanshah newspaper
Further correspondence respecting the affairs of Persia, presented to both Houses of Parliament by Command of His Majesty, June 1913
"Letters and documents of Abdol Hossein Farman Farma - 1907-1917, Volume 3", 1987, gathered by Ms. Mansoureh Ettehadieh