______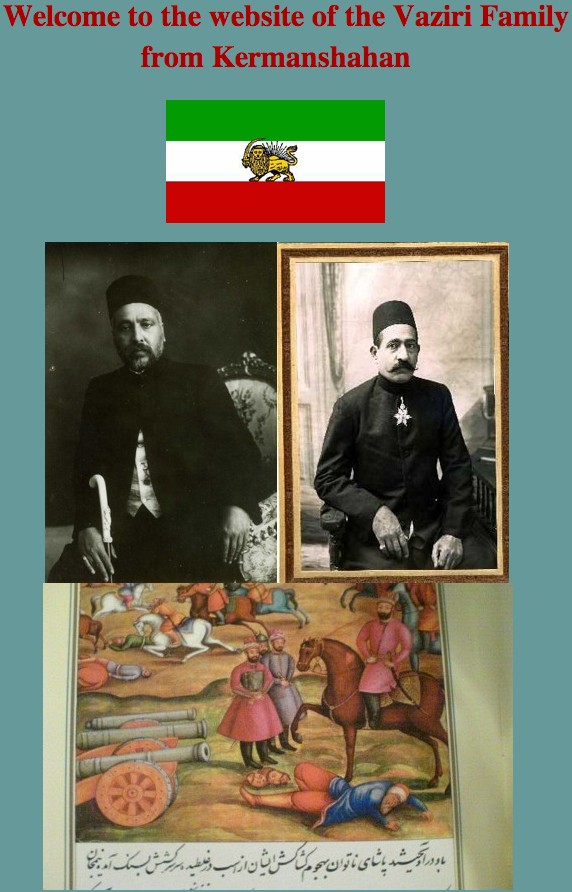 1st Picture: Mirza Mehdi Khan "Motazed-Dowleh" Vaziri, 2nd Picture: Mirza Abdollah Khan "Meshkat-ol-Molk" Vaziri,
3rd picture: Mirza Mehdi Khan "Etemad-Dowleh" "Monshi-ol-Mamalek" Esterabadi in pink clothes standing in front of Nader Shah (sitting on the horse). Ottoman General Abdullah Pasha, lying dead in blue clothes, is just next to them.
The purpose of this website is to unite and prolong the legacy of this old Persian family spreading now all over the world. It is mainly based on the book Historical Geography and Comprehensive History of Kermanshahan (Taarikhe Mofasale Kermanshah) by Mohammad-Ali Soltani, which includes information about the seventeen old families from the province of Kermanshahan (in alphabetical order):
Afshar
Amini (Kermanshahi and Harsini)
Biglari
Hatam
Jalilvand
Jamshidi
Kazazi
Khaneh-Kharab
Moeini
Mokri
Motazedi
Qajar (Dowlatshahi, Heshmatzad, Dowlatdad, Jahansouz, Shambayati)
Rashidi
Vakil-ed-Dowleh (Palizi, Dehbar)
Vaziri
Yavari Kalhor
Zangeneh
Brief information regarding the family name Vaziri:
Surnames appeared in Iran around 1924. "Vaziri" literally means "related to a vizier". Because of the presence of most members of the family in this official post, "Vaziri" was chosen as the surname of the family.